Implants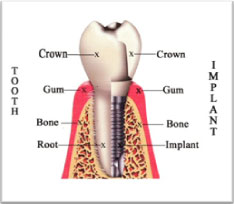 Many people have lost teeth to injury or disease. As a result, these people live their lives not being able to chew, speak or smile without feeling self-conscious. Dental implants are a great way to replace these teeth, giving you a great smile.
An implant is a small titanium post that is placed into the bone socket in your jaw to work as the root of the tooth. For 8-12 weeks the bone in your jaw heals and grows around the implant, securing it into your jaw. Once the implant is secured to the jaw bone, the dentist will install an abutment. Then abutment is a cylinder that screws onto the implant so that the artificial tooth, bridge or denture can attach to the implant. The dentist will then take an impression or a mold of your mouth. It will then be sent to a lab, where they will create a tooth, bridge or denture that will match your other teeth and fit onto the implant. In the meantime, the dentist will place a temporary tooth over the implant. Once the teeth come back from the lab, they are secured onto the implant to make the final result: a beautiful smile.
Implants are a great option and work for about 98% of patients, sometimes requiring other procedures to make the implant work. It is a process that takes time but the end result is a beautiful smile that will last you a very long time.